The recent outbreak of COVID-19 has prompted the large-scale search for practical solutions that can prevent the spread of the deadly virus — from researchers and scientists committed to finding a solution, to the manufacturers and consumers looking for credible information. In this time of uncertainty, many are seeking information around the potential technologies that can be used to combat the virus. One proven approach is using UV light.

Disrupting the DNA of pathogens with UV light
UVC light is a commonly used sterilization technology that has been shown to inactivate a wide range of pathogens, including- but not limited to- MRSA, C. diff, E. Coli and Pseudomonas. In application UVC energy is absorbed by nucleic acids inside the RNA and DNA, resulting in covalent bonds which, at the right dose, can render the pathogen unable to reproduce and infect. The most effective germicidal wavelength occurs with a peak between 260 nm to 270 nm, the optimum point at which DNA absorbs UV energy.

For many years, UV mercury lamps were considered the best choice. However, lamps have several limitations, including low activity at refrigeration temperatures, fragile construction, long warm-up time, risk of mercury exposure, and limited UV emittance at 254nm. In comparison, UV light-emitting diodes (UVC LEDs) can be configured to emit at ideal germicidal wavelengths and provide reliable on-demand disinfection without the limitations which hamper mercury lamps.

UVC LED technology in action
These are just two examples of the innovative new products using UVC LEDs to combat COVID-19 and other pathogenic contaminants.

Based in Finland, LED Tailor Innova7ion has decades of experience in developing light based disinfection products. The company's WiSDOM DS product is a file cabinet like drawer, which uses Klaran UVC LEDs to disinfect electronic devices and other non-critical medical equipment, including blood pressure cuffs and stethoscopes.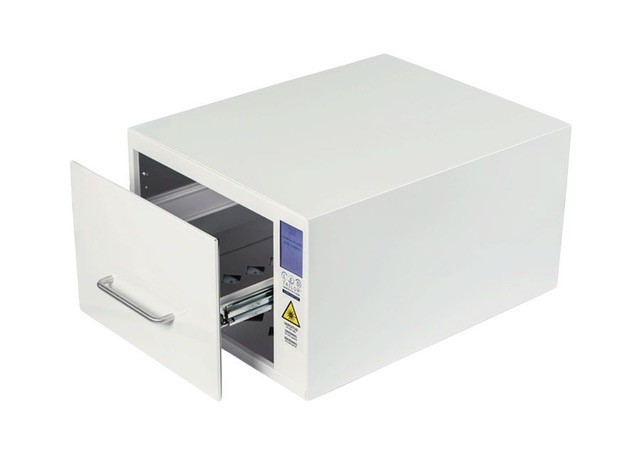 (Image: LED Tailor/Asahi Kasei)
In California, Cleanbox uses Klaran UVC LEDs in the CX1 cabinet to disinfect VR goggles, head mounted displays and other mass-use hardware worn on the face/head. The unique Cleanbox approach eliminates the need for heat or toxins in the decontamination process, protecting electronics and mitigating the spread of 99.99 percent of bacteria, virus, and fungi in one minute.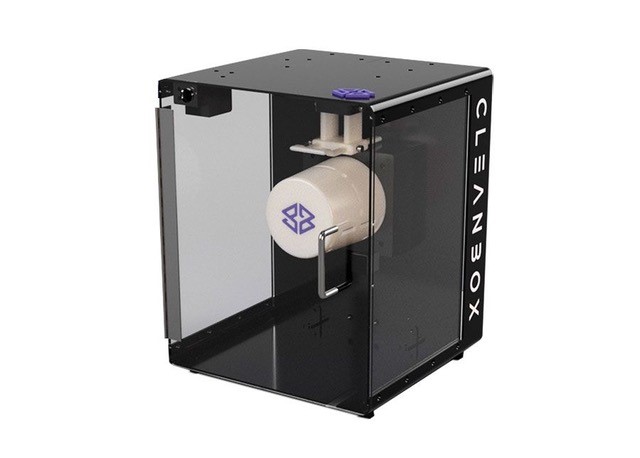 (Image: CleanBox/Asahi Kasei)
Beside these two examples, there is a number of new products which are under development and go into the market in a short period of time.

A viable solution in testing for COVID-19 effectiveness
The use of UVC LED technology on surfaces enables reliable, fast, on-demand disinfection for small to midsize devices, such as laptops, phones, keyboards, eyewear, keys and healthcare equipment. It prevents the transmission of harmful microbes into highly sensitive areas, including hospital care units, laboratories and cleanrooms.

Klaran UVC LEDs have not only proven effective against superbugs, such as C. diff and Methicillin-Resistant Staphylococcus Aureus (MRSA), but also are capable of achieving significant reduction in viral and bacterial loads in seconds.
While studies have confirmed that UVC light can be effective for combating SARS-COV additional studies are needed to determine and confirm the specific dose-response required to inactivate COVID-19 on different surfaces and materials.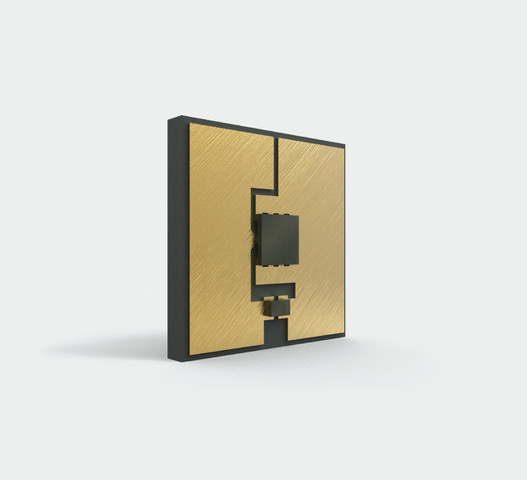 (Image: Asahi Kasei)
Article provided by Asahi Kasei; author: Shogo Sueyoshi
TrendForce 2020 Deep UV LED Application Market and Branding Strategies Report provides cross analysis on applications and sales channels to discuss major trends of UV-C LED market in 2020. The report will cover application fields including home appliances, commercial space, automotive field, potential water purifier markets to discuss branding strategies in those channels. In addition, specialty lighting markets covering sterilization lighting, food industry applications, fishery applications, horticultural lighting, phototherapy and curing equipment market trends and practical case analysis are discussed in the report as well. TrendForce aims to provide readers with a comprehensive understanding of Deep UV LED products development and sales.