Sustainable vegetable cultivation with LED: the Urban Harvest project in Seattle.
When Chris Bajuk, founder and CEO of the urban farming company "Urban Harvest" enters the production halls of his vegetable crop business in the mornings, he sees hundreds of square meters of sprightly growing lettuce heads. What's special: Bajuk isn't standing in giant greenhouses set in a rural atmosphere, but in the center of the million-strong U.S. metropolis of Seattle.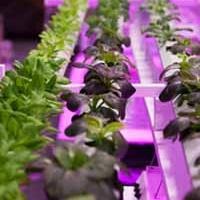 Sustainable vegetable cultivation with LED: the Urban Harvest project in Seattle. (All photos courtesy of Osram)
Urban Harvest is no normal plant business exclusively focused on the maximization of production and profit and employing all available means. In the opinion of many experts, the non-profit company represents the future of modern vegetable cultivation. The production location, a hydroponic system in which plants grow in nutrient-rich water instead of soil, is found in the cellar of the so-called Millionaire Club Charity in Seattle. An urban vegetable farm in the very heart of the U.S. metropolis.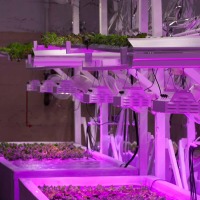 LED lighting can be precisely set in accordance with the light spectrum required by plants for growth needs.
Helping people in need
The aim of Urban Harvest is the energy-efficient and resource-conserving production of pesticide-free healthy vegetables for an urban population, and without long shipping distances. In addition, the company wishes to support people in need. In cooperation with the non-profit Millionaire Club Charity, Urban Harvest seeks to improve the living conditions of the unemployed and even homeless by creating job opportunities and building professional qualifications. With these activities, the initiative aims to promote the independence of individual persons. People without income also receive nutritious meals on a daily basis, prepared from the harvested products.

Examples of using LED grow lights in urban farming of cucumbers.
A local business reduces the CO² footprint
The corporate philosophy focuses on sustainable management and distribution. Urban Harvest grows 10,000 heads of lettuce each year and delivers exclusively to local restaurants, grocery stores and vegetable wholesalers in Seattle, thereby significantly reducing the product's CO² footprint compared to conventionally produced vegetables.
State-of-the-art LED light effectively promotes plant growth
The production halls are illuminated with highly modern LED lights. LEDs of the OSLON product range from OSRAM Opto Semiconductors are used. In total, several hundred OSLON SSL hyper red (660 nanometers), OSLON SSL deep blue (450 nanometers) and OSLON Square EQ white ensure lighting precisely matched to the needs of the plants.
With respect to the cellar location, this is not a necessary alternative to sunlight but a blessing for plant growth. The reason being that while natural light conditions contain factors disruptive to plant growth, LED lighting can be precisely coordinated to the specific light wavelengths required by plants in their various stages of growth. These consist of different wavelengths for each type of plant. The advantage: Cultivation is not negatively affected by adverse weather and plants no longer develop strong stems for growth towards the sun due to the optimum all-round lighting conditions. As a consequence, the plants grow more horizontally and achieve greater yield. This method is so pioneering that even Google has now become interested in the urban farming concept.
Current product launch of the OSLON SSL far red (730 nanometers)
LED technology is developing at a highly rapid pace. In February 2015, OSRAM Opto Semiconductors brought its latest product version of the OSLON SSL range to the market with the "far-red" model. The ultra-compact LED with a wavelength of 730 nanometers is ideal for the control of plant growth.
· News: Product launch of OSLON SSL far-red
LED lighting can be precisely set in accordance with the light spectrum required by plants for growth needs.
LED achieves 40% more growth compared to sunlight
Kevin Wells, CEO of the luminaire manufacturer LumiGrow, comments on his product selection for the Urban Harvest project: "OSRAM LEDs were the ideal choice globally to achieve the growth and efficiency targets of the project." The matched system of LEDs and luminaires emits precisely the right light intensity and light spectrum required by the seedlings in their various phases of growth. And without damaging hotspot lighting.
Optimally utilized LED lighting is able to increase plant growth by up to 40% compared to sunlight due to its completely flexible controllability targeted at healthy plant growth.
70% energy savings with LED – and rapid amortization
Compared to traditional high-pressure discharge lamps primarily used until now by greenhouses and vegetable farms, modern LED systems achieve energy savings of up to 70%, along with ten times the lifespan and constant light performance. Investments are amortized, therefore, after just a few years.
A mega trend: Urban farming, urban planting and urban gardening
Producing agricultural products for people in areas of high population density with very low levels of energy, without pesticides and with the use of already existing urban spaces. And, of course, with distribution channels that are as short as possible. The result is healthy products and a low carbon footprint. These are the main characteristics of urban plant cultivation initiatives that are becoming increasingly popular on a global scale. Projects range from individual residencies in large cities with roof terraces and groups of interested people using small open spaces, to highly potent start-ups cultivating on a large scale and now financed by investment companies. The plant project in the London underground, also exclusively illuminated with LEDs, is comparable to the Urban Harvest project.