The U.S. lighting company Acuity Brands announced its strategic partnership with Ushio America. The two companies entered into an alliance agreement that Ushio will supply Acuity Brands with its Care222® UV disinfection module, which generate far-UVC light which is safe to human skin but capable of inactivating viruses and bacteria on indoor surfaces.

Under the agreement, Acuity Brands will have an exclusive right to use Ushio's far-UVC disinfecting module for general illumination uses throughout North America and non-exclusive right for the worldwide market outside of Asia. Acuity Brands plans to incorporate these lamps in a range of its products, including its ceiling and wall-mounted lighting fixtures that can operate in occupied or unoccupied spaces, to reduce pathogens.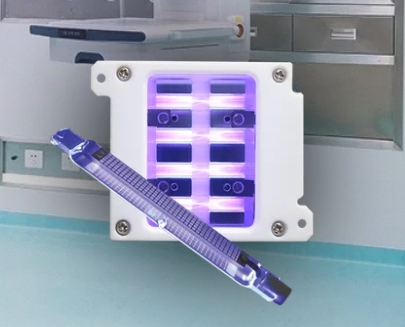 (Image: Ushio)
The mercury-free Care222 excimer lamps produced by Ushio can filter out the longer UV wavelengths that are harmful to humans from the lamp. The result is a narrow band 222nm wavelength of UV light that can inactivate viruses and bacteria, effectively preventing them from replicating.

Results from laboratory testing and clinical studies suggest that the filtered UV light emitted from the Care222 lamp can reduce pathogens on surfaces without posing a health risk to human skin or eyes when used within appropriate parameters. In contrast, possible acute and chronic damage to eyes and skin may result from the more generally employed 254nm UV wavelength used in many germicidal lamps, although this UV wavelength can be used in interior spaces under certain conditions that sharply limit human exposure. In addition, although lamps in the 405-430nm wavelength range can also be used in occupied spaces, they are not as effective against viruses as lamps with lower-range UVC wavelengths.

Acuity Brands expects to introduce lighting fixtures featuring the Care222 module in late calendar 2020.