LED Clamp Lamp HEL-TL077-C
Model No.: HEL-TL007-C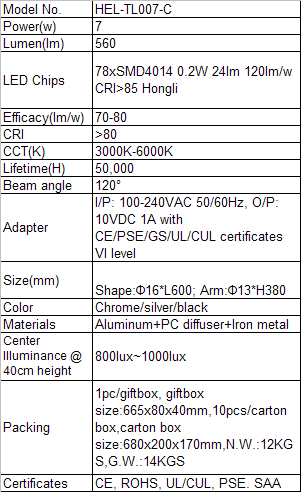 Feactures:
(1)Environmentally friendly use to extremely low power consumption, long life span and recyclable material.
(2)No heat, aluminum housing and aluminum MPCB board are good for heat dissipation.
(3)Warm light to true daylight with CRI over 85.
(4)Glare free, shadow free,flicker free,UV free.
(5)Polished chrome iron shape and arm.
(6)Stepless Touch-dimmable switch on shape, dimming range 5%~100%
(7)Adapter in black cable with 1.5 meters lenght, has DC port connection.
(9) The lamp head has a blue indicator, and the shape is removable, adjustable position at 180°
(10)With an extra heavy base as for an option, which can be used for desk lamp.
(11)Accessories: metal clip + adapter