Hot Designer Rocks Smart LED Miniskirt and Platform High Heels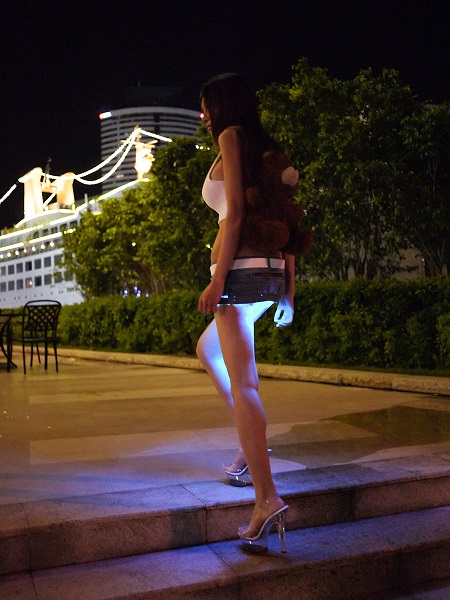 A designer made herself a controlled LED miniskirt. (Photo courtesy of SexyCyborg)
More wearable projects have surfaced on the net as tech-savvy girls try to add LEDs to their wardrobes. Apparently, the cute, innocent Hikaru Skirt is not for everyone, some have started to redesign the tutu skirt. Moreover, many wearables are not designed for daily use, but for special shows or Cosplay conventions. A female designer known as SexyCyborg on Reddit set out to customize her own "adult version of Hikaru Skirt," and later matched the skirt with a pair of sparkling LEDs platform high heels.
LED there be bright miniskirts
SexyCyborg tested several LED miniskirt prototypes before reaching the final version. Her first tip is: do not use metals to secure LEDs strip.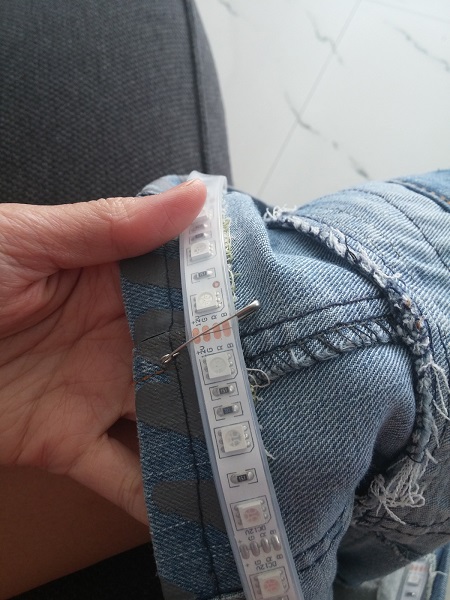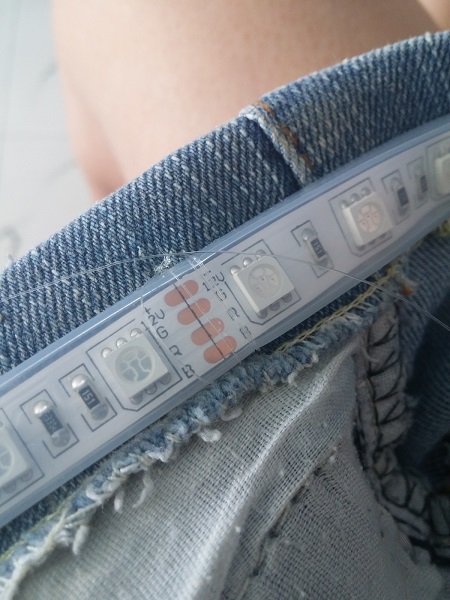 Her fist attempt, as shown in the left, was to secure the LEDs strip with metal safety pins, but it conducted heat when the 5050 RGB LED strips was turned on. Instead she replaced the design with clear thread, which was sewn to secure the strips onto the skirt, and does not conduct heat.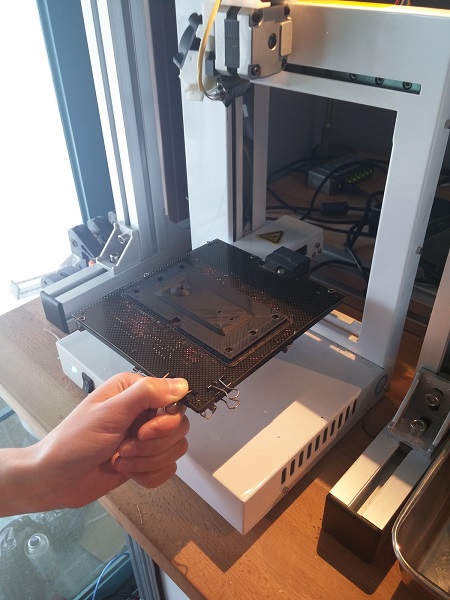 The enclosure of the LEDs module was made from scratch. SexyCyborg established a CAD model on Tinkercad.com. and printed it out with 3D painting machine.
SexyCyborg aims for a everyday wear LED miniskirt that allows complex color formula. (Photo courtesy of SexyCyborg))
Unlike the original Hikaru Skirt that is based on Arduino system, SexyCyborg's control board is a Bluetooth LED controller which is easier to navigate compared to the former. She aims to explore controls that are more complex than simple color change triggered by motion/sound like the one Hikaru Skirt does.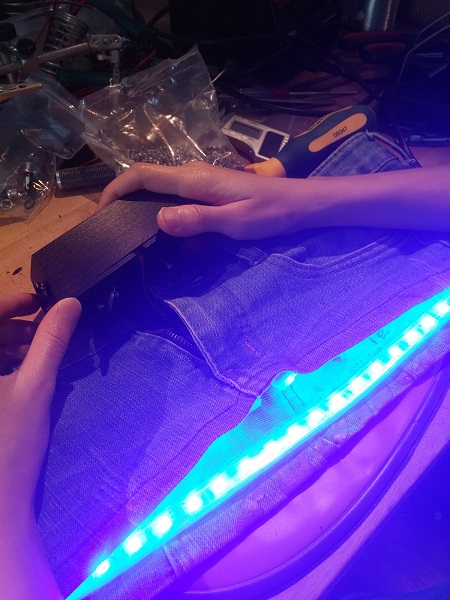 SexyCyborg uses a Bluetooth controller Android app to change the LEDs color. In order to make better color-changing effect, she plans to code a more flexible control app to make the skirt 'smart'. So far she came up with several possible implementations for her control app, including to sample her outfit color, in several different colors on the same LEDs strip.
Sparkling Platform High Heels
What to do when high heels has space for some crazy renovations? Insert a LED strip into the platform and make it sparkles.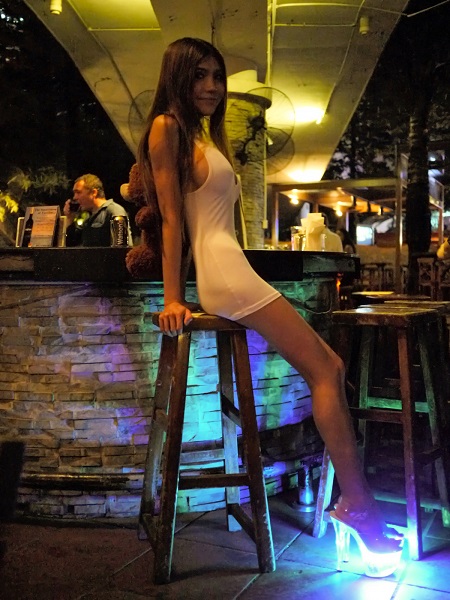 SexyCyborg found the high platform come with very small holes. To secure the LED module in the platform, she made a carrier for the parts. She came up with the idea to use magnets to stick the battery and switch carrier together since they are too big to fit in the hole at the same time.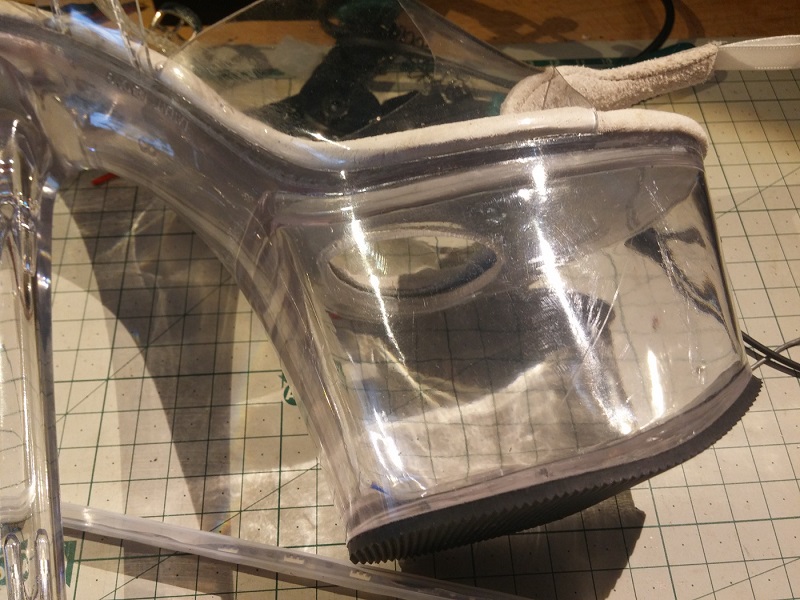 Each shoe is detected separately by the control app, while they can be controlled simultaneously or the opposite.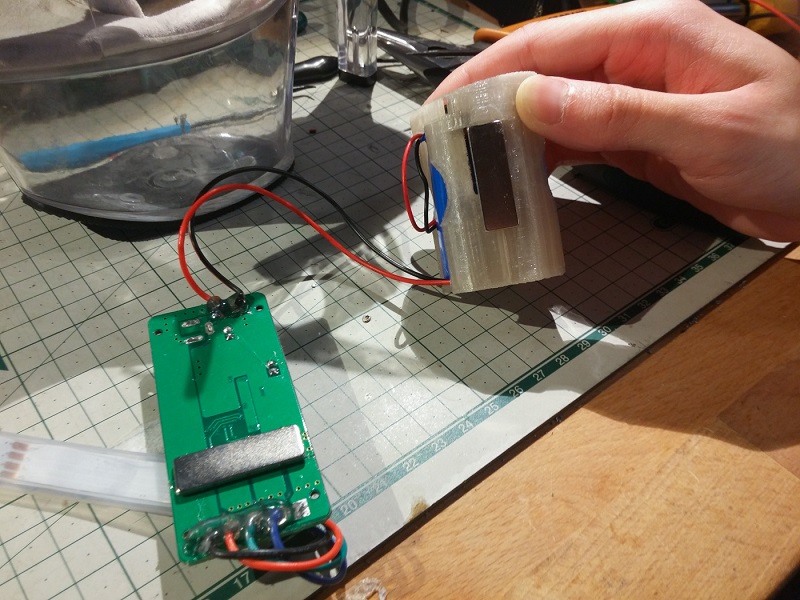 The app allows the LEDs to be synced with music, match specific colors, and show different patterns.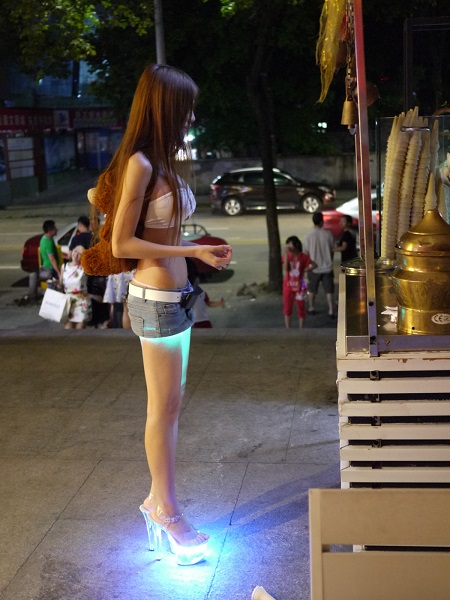 A complete look of her LED miniskirt and LED platform high heels. (Photo courtesy of SexyCyborg)
Surely, an eye catching outfit on any ladies night out.